621f70e3cf09952bcb9ed348-regular
Penis Ring Vibrator Delay Ejaculation Cockring sex toy for men - INTOYMENTS
Combining the benefits of an anatomical and vibrating penis ring, one ring fits around your shaft for a firmer erection, while the other provides precise vibrations for constriction of the balls and enlarged perineum. The asymmetrical scientific design with this vibrating ring lets you loop it perfectly for zero blockage pleasure with layered pressure in all the right places.
Aiming for stronger erections and delivering longer lovemaking sessions, the vibration of the love ring passes your ball and reaches your partner's clit as a couple vibrator.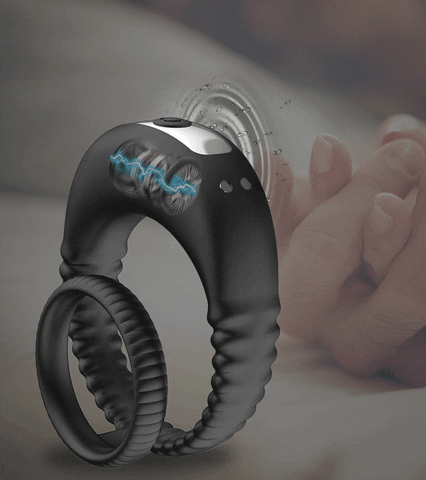 Featuring a raised texture around this vibrating large love cock ring, it delivers adjustable 10 vibrations and helps increase stamina to train your sensitivity. It gently restricts the blood flow to your penis to increase length and girth, helps reduce and control premature ejaculation to prolong sex life.
SPECS
Product Type: Vibrating Penis Ring
Material: ABS Silicone
Noise: 50 DB
Connectivity: USB
Rechargeable: Magnetic Charging
Waterproof: Yes
Vibration Modes: 10
Package: Device, USB Cable, User Manual
DISCREET SHIPPING AND THE LOWEST PRICES
Your privacy is of utmost importance to us. Your package will be shipped in a Plain Box with our discreet packaging you can shop with confidence and We offer the best prices than market
Penis Ring Vibrator Delay Ejaculation Cockring sex toy for men - INTOYMENTS